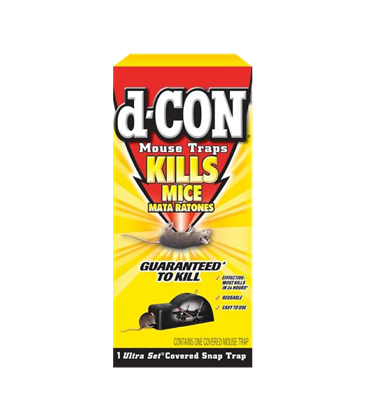 ULTRA-SET COVERED SNAP TRAP
d-CON Reusable Covered Mouse Snap Trap gives you the benefits of a snap trap with a convenient cover to hide the dead mouse from view. This covered snap trap is easy to set and cost effective because it is reusable!
BUY NOW
HOW TO USE
USING YOUR d-CON SNAP TRAP
Our covered snap trap is easy to set without snapping your fingers.
1
BAIT THE TRAP
Put a little bit of peanut butter at the back of the trap for best results.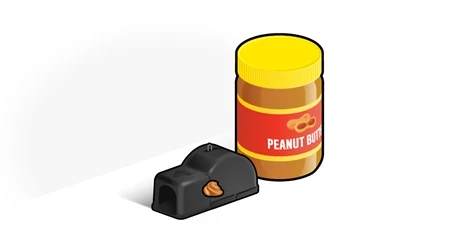 2
SET THE TRAP
Simply pull the lever back until it locks. The trap is now set.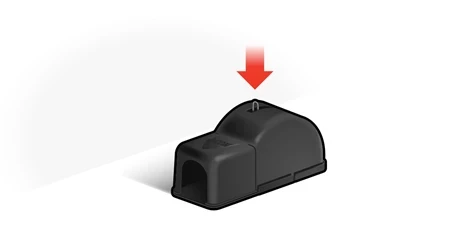 3
PLACE AND MONITOR
Check the trap frequently. If it is empty after 5 days, try it in another location.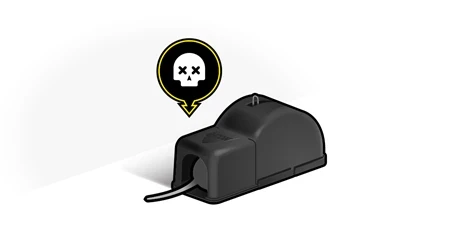 SAFETY
Click here for more details
Keep out of reach of children. Caution: Read additional precautionary statements on back panel. Precautionary Statements: Hazards to humans and domestic animals. Caution: Harmful if swallowed. Keep away from humans, domestic animals and pets. All handlers (including applicators) must wear gloves. Any person who retrieves carcasses, exposed bait, or bait station following application of this product must wear gloves. First Aid: If Swallowed: Call a Poison Control Center, or doctor immediately for treatment advice. Have person sip a glass of water if able to swallow. Do not induce vomiting unless told to do so by the Poison Control Center or doctor. Treatment for Pet Poisoning: If animal eats bait, call veterinarian at once. Contact Number: In case of emergency, call toll free 1-800-228-4722. Have the product container or label with you when calling a Poison Control Center or doctor, or going for treatment. Environmental Hazards: This product is extremely toxic to mammals, birds, and other wildlife. Dogs and other predatory and scavenging mammals and birds might be poisoned if they feed upon animals that have eaten this bait. Do not apply directly to water. Notice to Buyer and User (Satisfaction guaranteed or your money back): Buyer and user assume all responsibility for safety and risk associated with any use not in accordance with directions. To the extent consistent with applicable law, seller shall not be liable for consequential, special or indirect damages resulting from the use or handling of this product and seller's sole liability and buyer's and user's exclusive remedy shall be limited to the refund of the purchase price.
THE LEARNING CENTER
FREQUENTLY ASKED QUESTIONS
WHAT ARE THE DIFFERENT KINDS OF TRAPS SOLD BY D-CON®?
d-CON® traps include Glue Traps, Ultra Set a covered trap and the innovative No View, No Touch™ traps. All traps are safe to use in easily accessible areas and offer visual proof that the rodent is captured. d-CON® No View, No Touch™ is a unique, award-winning mouse trap. It delivers on a "no see, no touch" promise with effective and efficient killing performance.
CAN I USE BAIT OTHER THAN CHEESE OR PEANUT BUTTER?
You can use any other bait, but the most recommended is peanut butter.
WHAT IS THE BEST WAY TO GET RID OF MICE USING D-CON ULTRA SET TRAP?
d-CON® Ultra Set covered snap trap is easy to set. To ensure good performance, before setting the ultraset trap, it needs to be placed on a flat surface. For the trap to work properly, it is also essential that you do not over-bait. An amount of peanut butter the size of a large pea (1/8 teaspoon) is recommended as bait. It is important to place bait only inside the cup and avoid the surrounding parts of the Ultra Set Trap.
WHERE CAN I BUY D-CON MOUSE TRAPS?
d-CON® mouse traps are available at a variety of retailers across the U.S. Our online retailers include Walmart, The Home Depot, Family Dollar, and Amazon.com . For more information on where to buy mouse traps online or in person click the Buy Now button on the top right of this page.