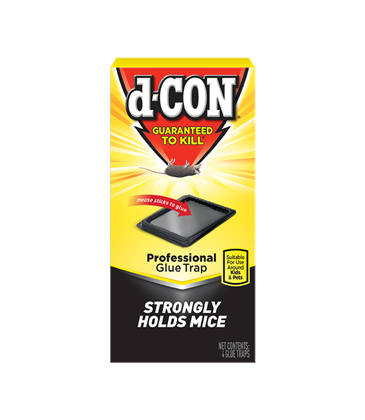 GLUE TRAP
d-CON professional strength glue traps are easy to use. Mice simply step on and then can not step off again. These are ideal for atttics, basements, garages and sheds. Not ideal for the person who never wants to see a mouse.
Buy Now
HOW TO USE
USING YOUR d-CON GLUE TRAP
One small step for a mouse means one giant step toward a mouse free house.
1
PLACE THE TRAP
Begin by separating the traps and then placing glue side up near walls where mice run.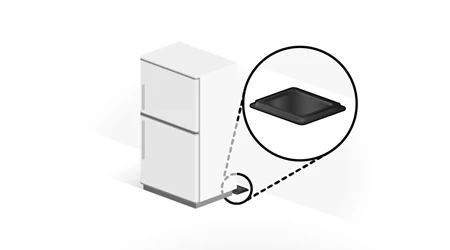 2
CHECK THE TRAP
Take a look to see if a mouse has taken his last step onto your glue board.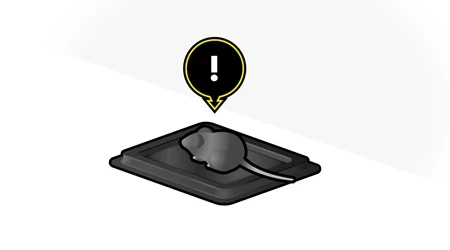 3
MOVE OR THROW AWAY
Make sure you place these in multiple locations or move them after a few days. Simply throw away when done.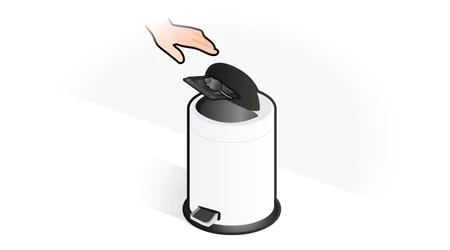 SAFETY
Click here for more details
Keep out of reach of children. Caution: Read additional precautionary statements on back panel. Precautionary Statements: Hazards to humans and domestic animals. Caution: Harmful if swallowed. Keep away from humans, domestic animals and pets. All handlers (including applicators) must wear gloves. Any person who retrieves carcasses, exposed bait, or bait station following application of this product must wear gloves. First Aid: If Swallowed: Call a Poison Control Center, or doctor immediately for treatment advice. Have person sip a glass of water if able to swallow. Do not induce vomiting unless told to do so by the Poison Control Center or doctor. Treatment for Pet Poisoning: If animal eats bait, call veterinarian at once. Contact Number: In case of emergency, call toll free 1-800-228-4722. Have the product container or label with you when calling a Poison Control Center or doctor, or going for treatment. Environmental Hazards: This product is extremely toxic to mammals, birds, and other wildlife. Dogs and other predatory and scavenging mammals and birds might be poisoned if they feed upon animals that have eaten this bait. Do not apply directly to water. Notice to Buyer and User (Satisfaction guaranteed or your money back): Buyer and user assume all responsibility for safety and risk associated with any use not in accordance with directions. To the extent consistent with applicable law, seller shall not be liable for consequential, special or indirect damages resulting from the use or handling of this product and seller's sole liability and buyer's and user's exclusive remedy shall be limited to the refund of the purchase price.
THE LEARNING CENTER
FREQUENTLY ASKED QUESTIONS
HOW DO I USE D-CON MOUSE TRAPS?
"d-CON® No View, No Touch Trap: On the bottom of the No View, No Touch trap, peel back the small self-adhesive label to apply bait. While holding base of trap in a horizontal position, twist top cover in a clockwise rotation. A red indicator will show through the hole marked ""Set"" on top of the trap as the trap clicks in to place. A mouse entry way will open in front for the mouse to enter the trap. Once the mouse enters the trap and tries to eat the bait, it will release a trigger so that the trap snaps shut closing the entry point and killing the mouse. Simply dispose of the entire trap without having to see the mouse. d-CON® Ultra Set Snap Traps: Simply lift the front cover and place the bait in the round bait cup inside the trap, then close the cover. Place the trap on a flat surface and slowly pull the lever all the way down and gently release until it locks securely in place. When the mouse tries to steal the bait, the spring loaded mechanism is triggered, and a metal bar will snap and kill the rodent. d-CON® Glue Traps: For these traps, no bait is needed. Simply place these traps along a wall or baseboard where you have seen or suspect mice to travel and wait. Rodents will get caught in the trap and be unable to move, allowing you to quickly dispose of them."
WHAT ARE THE DIFFERENT KINDS OF TRAPS SOLD BY D-CON®?
d-CON® traps include Glue Traps, Ultra Set a covered trap and the innovative No View, No Touch™ traps. All traps are safe to use in easily accessible areas and offer visual proof that the rodent is captured. d-CON® No View, No Touch™ is a unique, award-winning mouse trap. It delivers on a "no see, no touch" promise with effective and efficient killing performance.
WHERE CAN I BUY D-CON MOUSE TRAPS?
d-CON® mouse traps are available at a variety of retailers across the U.S. Our online retailers include Walmart, The Home Depot, Family Dollar, and Amazon.com . For more information on where to buy mouse traps online or in person click the Buy Now button on the top right of this page.
CAN I USE BAIT OTHER THAN CHEESE OR PEANUT BUTTER?
You can use any other bait, but the most recommended is peanut butter.