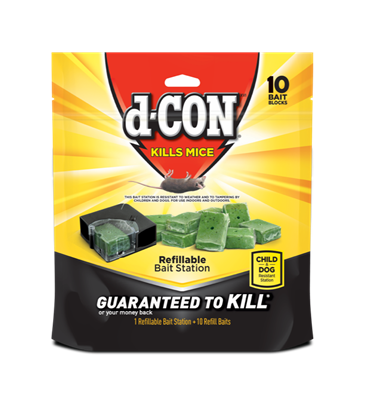 d-CON® Refillable BAIT STATION
This is our most popular bait station. So tasty, mice will risk their lives for it. This compact & low profile, weather-resistant station can be used indoors or outdoors. It is also resistant to tampering by children & dogs. Ideal for your: attic, kitchen/pantry, basement, bedrooms, bathrooms, living room, laundry room, garage and shed. Available in different pack sizes.
Buy Now
HOW TO USE
USING YOUR REFILLABLE BAIT STATION
Use indoors and oudtdoors. This formula does not contain neruotoxins or anti-coagulants.
1
PLACE AND MONITOR
Place the station where you notice signs of mice activity. You'll be able to see the bait through the station to gauge if mice are eating it or not. There is no need to touch the bait once it's loaded.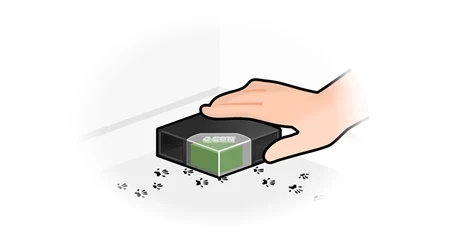 2
REPOSITION IF NEEDED
If you don't see chew marks on the bait after a few days, try moving it to another area.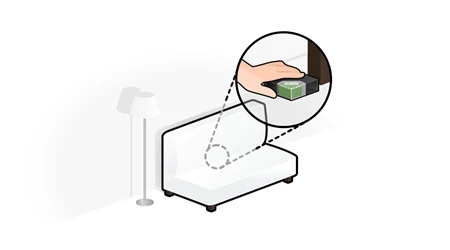 3
REFILL WHEN EMPTY
If mice have eaten all of the bait, put on a pair of gloves and refill the bait station. Remove when activity ceases.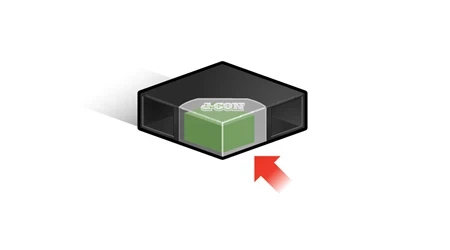 Safety
Click here for more details
Keep out of reach of children. Caution: Read additional precautionary statements on back panel. Precautionary Statements: Hazards to humans and domestic animals. Caution: Harmful if swallowed. Keep away from humans, domestic animals and pets. All handlers (including applicators) must wear gloves. Any person who retrieves carcasses, exposed bait, or bait station following application of this product must wear gloves. First Aid: If Swallowed: Call a Poison Control Center, or doctor immediately for treatment advice. Have person sip a glass of water if able to swallow. Do not induce vomiting unless told to do so by the Poison Control Center or doctor. Treatment for Pet Poisoning: If animal eats bait, call veterinarian at once. Contact Number: In case of emergency, call toll free 1-800-228-4722. Have the product container or label with you when calling a Poison Control Center or doctor, or going for treatment. Environmental Hazards: This product is extremely toxic to mammals, birds, and other wildlife. Dogs and other predatory and scavenging mammals and birds might be poisoned if they feed upon animals that have eaten this bait. Do not apply directly to water. Notice to Buyer and User (Satisfaction guaranteed or your money back): Buyer and user assume all responsibility for safety and risk associated with any use not in accordance with directions. To the extent consistent with applicable law, seller shall not be liable for consequential, special or indirect damages resulting from the use or handling of this product and seller's sole liability and buyer's and user's exclusive remedy shall be limited to the refund of the purchase price.
THE LEARNING CENTER
FREQUENTLY ASKED QUESTIONS
WHAT ARE THE DIFFERENT KINDS OF BAIT PRODUCTS THAT D-CON® OFFERS?
d-CON® offers a full range of bait products to suit different usage situations. Baits are the perfect solution if you don't want to come in contact with a rodent. d-CON®offers pre-loaded disposable bait stations and refillable bait stations that provide a mess-free way to kill rodents in hard to reach places.
HOW MANY DAYS DOES IT TAKE TO GET RID OF RODENT ACTIVITY WITH D-CON BAITS?
Rats and Mice may consume a lethal dose in one feeding, with the first dead rodents appearing 4 or 5 days after feeding begins.
WHAT IS THE ACTIVE INGREDIENT IN THE D-CON BAIT BLOCK?
Cholecalciferol is the active ingredient in d-CON baits.
WHERE DO I PLACE THE BAIT STATION?
Place your d-CON Bait Station where you notice signs of mice (droppings, footprints, gnawing or scampering noises in your walls). Place perpendicular to the wall and in dark corners, such as behind the stove, refrigerator, washer and dryer, or where rodent activity is seen. It is wise to set baits and traps simultaneously in various spots in the home to ensure better control of the problem.